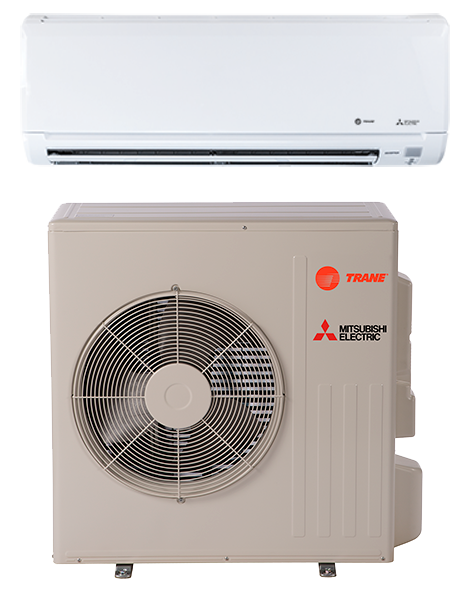 A ductless HVAC system, or mini split system, is a heating and cooling system designed to deliver warm or cool air to a single room, or several, without the need for connective ductwork. Mini split systems are a great option for room additions, sunrooms, garages, or areas of the home that need to be warmer or cooler. These mini split systems can be single-zone or multi-zone.
A ductless or mini split air conditioner works just like a conventional split central air conditioner. It has an indoor unit and an outdoor unit. Unlike a bulky window air conditioner, a ductless air conditioner is mounted to a wall, ceiling, or placed in the floor. A small hole is cut to lead to the outdoor unit, where warm air is expelled. Other than that, the ductless air conditioner works just like a traditional one, just without the ductwork. Ductless air conditioners and ductless systems products provide cool comfort when you need it most.
Single-Zone Ductless Systems
Manage temperature in just one room without using ductwork. With single-zone equipment, one outdoor unit connects to one indoor unit. This option is ideal if you only need cooling and heating in a single space. These units are easy to install and can lower energy bills over time.
Multi-Zone Ductless Systems
With multi-zone equipment, one outdoor unit can connect up to eight indoor units. This option is perfect if you need cooling and heating in multiple spaces with different functions, such as a nursery versus a kitchen or an office versus a conference room. Each zone is served by its own indoor unit. Indoor units come in a variety of forms including wall-mounted units, floor-mounted units, ceiling cassettes and air handlers.